As one of the leading NetSuite Solution providers, our most frequently asked questions are related to NetSuite pricing and licensing. For organisations early on in their search for the perfect ERP, pricing of the many different systems can be pretty confusing. As an organisation who has helped hundreds of companies implement NetSuite, from within the UK to Singapore to the USA, we understand exactly what goes into pricing a NetSuite implementation. We are here to give you an in depth guide into the pricing of Oracle NetSuite, which will include information on modules, licenses, integrations and more. We will give you the exact step by step process that we use to calculate how much your NetSuite license and implementation will cost, so let's get started!
Step 1: Choosing your Implementation Partner
The very first step in your ERP journey is choosing which provider will help you in your implementation journey. The main way in which organisations implement NetSuite is through:
1. NetSuite's Sales and Services Team, or
2. Through a reseller, otherwise known as a NetSuite Solution Provider.
As such, the pricing will vary, and there are pros and cons to each channel.
NetSuite Sales and Service Team
Some companies choose to work directly with NetSuite's sales and service team, comprised of sales reps who specialise in specific industries. Although they may have a good idea of what compromises a NetSuite license, NetSuite sales reps one and only job is to sell the software. They often don't have any experience of using or implementing it, so this means they may sell you modules or integrations that aren't actually necessary, or don't fit with your business.
You will receive initial consultation with certain sales reps, then will be passed to the demo reps who's only job is to show you the system, and then you may finish off with a competitive intelligence rep who will sell you on the pro's of NetSuite. The experience may not seem as personal as with a NetSuite solution provider.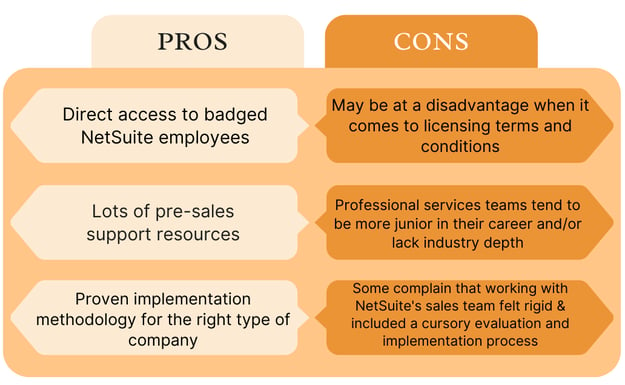 NetSuite Solution Provider
A NetSuite solution provider offers customised consulting services from a diverse team of specialists who have implemented hundreds of ERP solutions for companies in various industries. They provide deep insights about which edition you need, how best to implement the system, and they customise your installation to fit the company's needs. They are programmers, management consultants, technology and integration experts, and end users, so they know the system inside and out. As opposed to NetSuite Sales and Services reps, who are primarily sales based, and may not understand the system to the same detail.
These companies excel at working closely with ERP buyers to determine the best options to meet the needs of the business. In addition, their versatility allows them to tailor each implementation specifically to the customer's wants and needs. They are also able to be much more flexible with their implementation costs, often making it a cheaper option.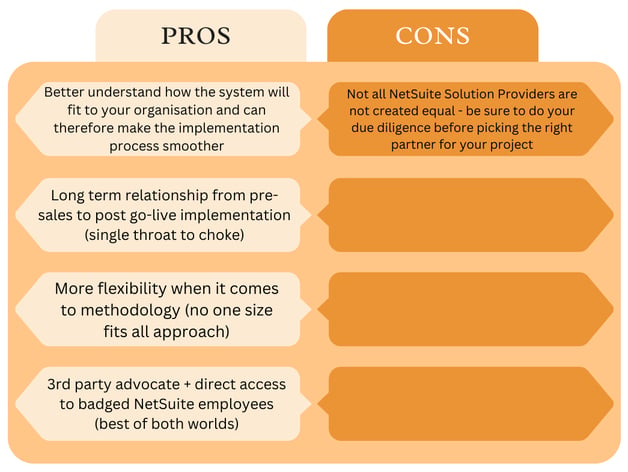 Step 2: Choosing a Suite
Once you have decided on NetSuite for your ERP solution, you must determine which suite of apps will work best for you. In order to do this, we first need to focus on the size of your organisation and what functionality you will need. The main questions we would ask you is how many entities do you have, and how many users do you need, as this forms the basis of which suite you would need.
Legacy NetSuite Editions
There are two different classifications of NetSuite, the first of which is its legacy editions. These have been offered since NetSuite was created, and they include:
- Starter Edition - This is for companies that do not require more than 10 full users (we will go on to discuss users a bit later), are only managing one legal entity, and don't have over 50 employees. This edition is therefore more suitable for small businesses.
- Mid-Market Edition - This is for companies that require more than 10 full users and are managing two or more legal entities. This edition is therefore suitable for small to medium size businesses.
- Enterprise Edition - This is for companies that require more than 1000 full users and are managing two or more legal entities, and therefore is more suitable for very large and established organisations.
Each of these editions come with the below out of the box functionality, and would then be tailored to fit the needs of the organisation.
NetSuite CRM Standard Features:
Marketing Automation
Sales Force Automation (SFA)
Case Management
Partner Relationship Management
NetSuite ERP Standard Features:
General Ledger
Accounts Receivable
Accounts Payable
Acceptance of Credit Cards, ACH, EFT
Bank Management & Reconciliations

Multi-Currency & Multi-Language

Item & (basic) Inventory Management
Project Management (basic capabilities - see SRP below for more capabilities)

Order Management

Purchasing

Employee Center (Time & Expense Management)
SuiteSucess
The second suite of apps available is "SuiteSuccess". NetSuite released SuiteSuccess in 2017, with the aim to bring together 20 years of learning and create a unified industry best practise solution. SuiteSuccess was produced to solve industry problems that once prevented companies from scaling and growing, and now enables a much more streamlined implementation process. Oracle claim go-live can be achieved in 100 days, which can be possible, however it is very much determined by the organisation and their specific needs.
Based on your industry, SuiteSuccess offers a selection of processes and functionality that gives each implementation a starter point for success (pardon the pun!). This includes things like predefined function roles, relevant dashboards, flexible chart of accounts, item management, KPIs reporting and more. Then, based on your companies specific needs, you will select a range of further modules that will give you full functionality, and enable you to run your business efficiently and effectively (keep reading to find out about additional modules!).
Like the legacy version, SuiteSuccess also offers different levels, which is again, mostly based on number of users. These include:
- Starter - For companies with less than 10 users and up to 50 employees.
- Standard - For companies that require ERP only (no CRM) functions, for more than 10 users and two or more legal entities.
- Premium - For companies requiring full ERP AND CRM capabilities, for more than 10 users and two or more legal entities.
Each level is based off the same foundational technology and is hosted within Oracle's multi-tenant secure data centres.
So, how do I pick between Legacy or SuiteSuccess?
Now, this is where who you choose as your implementation partner can become very important. SuiteSuccess has better functionality and is more expensive than the legacy options, so naturally Oracle want as many organisations to choose it as possible. This means if you chose NetSuite's Sales and Services Team as your implementation partner, they often won't even mention the legacy options, and this could mean you loose out on some significant savings. For most companies SuiteSuccess is probably the best option, but for some, the legacy option may be better.
If you are a small company, with only simple financial needs and don't have ambition to expand beyond one entity any time soon, then the legacy option may be a better and cheaper fit. NetSuite solution providers like Threadgold Consulting will always be looking out for your best interests, and will always advise the right subscription for your company, regardless of price. We understand that the many different options can become a bit confusing, so we will work with you to ensure you understand the differences and chose the best fit for you.
Service Tiers
There is one final thing to consider when pricing your license. As a company grows, a number of metrics will grow with them, mainly number of users, transaction volumes and data storage. This naturally puts more pressure on Oracles data servers, and as such they have created several service tiers, with increasing costs with each tier. The tiers and their limits are as follows:
| | | | | | |
| --- | --- | --- | --- | --- | --- |
| Service Tier | Monthly Transaction Volume | File Storage (GB) | Number of Users (Max) | SuiteCloud Plus License (for a charge) | Sandbox (test account) |
| Standard | 200,000 | 100 | 100 | 1 | No |
| Premium | 2,000,000 | 1,000 | 1,000 | 3 | Yes |
| Enterprise | 10,000,000 | 2,000 | 2,000 | 6 | Yes |
| Ultimate | 50,000,000 | 4,000 | 4,000 | 12 | Yes |
A SuiteCloud Plus license is for organisations who want slightly more from their NetSuite subscription. SuiteCloud Plus enables organisations to increase transaction limits above their service tier, increase data allowances and allows advanced customisations and integrations. A sandbox account is essentially a test account that allows organisations to make additional customisations that will not impact their day-to-day operations.
The good news is despite these additional costs, customers who have upgraded to the next tier have reported more capacity at scheduled downtimes, greater transaction throughput and faster processing, and all agree that upgrading service tiers was a positive investment for their organisation!
Step 3: User Licenses
In the SaaS world, there are generally two ways to determine cost. A concurrent licensing model, or a named user model. NetSuite opts for a name user model, and therefore your price is heavily reliant on the number of employees that need to use the system. However, there are a range of different user licenses that you can opt for, and we will now describe these below.
Full User License
Each individual who transacts with the system frequently will require their own unique license. It might be tempting to only buy one license and share it between people, but people won't be able to use the account at the same time, and it will make it almost impossible to track who has made changes. Individual full licenses enable full functionality of the system, and ensures comprehensive audibility. Each full license costs $120 per year, however you aren't limited to the number you purchase at initial implementation, you can start with fewer licenses and add them on as you go.
Within each full license, NetSuite offers a range of different role types which give you various degrees of access. For example, Sales Managers will have slightly more functionality of the CRM module, and the CFO will have more access to the finance modules. The roles are fully customisable so you can alter them to fit your organisation.
Employee Self-Service License
NetSuite also offers limited function licenses called an "Employee Self-Service" license. Typically, these licenses are for people that need limited access to the system, and only allow employees to enter PTO requests, manage expense reports and log time against projects. These limited use licenses can be purchased in packs of 5 for the same price as one full license, making it a very cost-effective option. And fear not, if people without a full license need access to data and reports, NetSuite can generate reports to non license users via Excel, CSV or a third-party format.
Vendor and Customer License
Finally, NetSuite offers licenses for vendors and customers. Vendor access enables partners to search, view and print purchase orders that you create with them. This level of self-service improves the relationship with vendors, and is completely free, meaning it can scale with your business.
Customer access enables them to update their contact information, change their subscription preferences, submit support issues and even process payments if you configure your system to support this. This can create a better user/customer experience and improve reviews of your organisation. Again, this is totally free and scalable.
Step 4: Choosing the right Advanced Modules for your business
The base NetSuite package offers a robust collection of integrated apps that serve many businesses. However, in order to serve the many different types of companies that run on NetSuite, Oracle created "Advanced Modules" that further extend the system's functionality. When adding Advanced Modules, you can select them "a-la-carte" one at a time, or bundle them together in an industry-specific suite. For example, the Manufacturing Suite includes extra modules and features to handle all the tasks that go along with the manufacturing process, such as warehouse management and advanced procurement.
The cost for each advanced module varies by complexity and industry, but they range from approximately $599 per month to $1699 per month. You can add them on at any time, but only remove them at the time of your software renewal. Some of the advanced module bundles available include:
Inventory & Manufacturing Management Modules (WMS & WRP)
Demand Planning
Advanced Inventory
Advanced Procurement
Advanced Manufacturing
Manufacturing WIP and Routing
Work Orders and Assemblies
Warehouse Management (WMS)
Financial Management Modules
Oracle NetSuite Planning and Budgeting Cloud Service (PBCS)
Fixed Assets
OneWorld
SuiteBilling
Multi-book Accounting
Advanced Financials
Advanced Revenue Management
Human Capital Management (HCM)
SuitePeople
Premier Payroll Service
Services Resource Planning Modules (SRP)
OpenAir
Job Costing
Resource Allocation
Project Management
E-Commerce and Retail Management Modules (POS)
SuiteCommerce Standard
SuiteCommerce Advanced
SuiteCommerce InStore
Advanced Order Management
You can easily see why it gets confusing with so many suites, modules, service tiers, and industry-specific options. This is why Threadgold Consulting are dedicated to working with you to help you understand and create the perfect system for your business. Want to have an early indication of how much your license might cost? Check out our NetSuite pricing calculator below!
Step 5: Calculating your implementation costs
When deciding to move your business to NetSuite cloud ERP, keep in mind the cost of licensing is not the only expense you will incur. You must also pay for the implementation, which is essentially the costs from your partner for the work they will do in setting up your business on the system. The cost of this piece will vary widely based on your company's size, your complexity, and the partner you choose to work with. Working with a company that has extensive experience within your industry will make the process easier and, therefore, less expensive.
There are generally 3 phases that make up a successful NetSuite Implementation. These include:
- Project Kick-Off and Discovery - The first phase mainly involves project requirements gathering. Your partner will work with you and your stakeholders to discuss project scope, timeline and expectations. An engaged and thorough project discovery is essential for ensuring a smooth transition and preventing any unanticipated costs in the future.
- Data Migration and System Customisation - The second phase involves migrating your data to your new system, integrating any third-party apps, and configuring any specific customisations that you require, such as specific workflows or custom reporting. This phase can often be time consuming, as some customisations can be extensive and need a lot of testing. As such, you should allocate a specific portion of your budget to this phase.
- User Training and Testing - This phase is where your partner will train your employees to use their new system. This is used to identify if things are working properly, and is often where slight niggles are highlighted and fixed.
As there are so many factors that contribute to the pricing of implementations, you can expect to pay anywhere from $10,000 to $250,000. Partners will also generally offer you either a fixed fee contract, or a time and materials contract. For a more detailed view of each step, check out our comprehensive guide to NetSuite implementations!
Step 6: Integrating third-party apps
Oracle has always aimed for NetSuite to be the most extensive and easily integrated ERP on the market. They understand that businesses have multiple different needs that can't always be accomplished with one system, and as such Oracle have tried to make it as quick and easy as possible to integrate third-party apps into your NetSuite solution. We will now discuss these different ways and explain how they impact your pricing.
SuiteScript
SuiteScript is the main way in which third-party apps can be integrated into NetSuite. NetSuite used to have to rely on integration platforms (explained below) to carry out integrations, however now it is easier and cheaper than ever to connect your third-party apps. SuiteScript is built on Java Script and allows you to customise, search for and process your third-party data. It is compatible with an array of CRM software, social media networks or e-commerce platforms, and it can also integrate other web 2.0 tools such as blogs and instant messaging.
SuiteScript is available with your license at no extra cost. The only costs associated with integrating third-party apps is the time that your implementation partner will charge you for carrying out the work. The amount that you will pay will largely depend on the number of third-party apps that you use and the complexity of these apps. For integrations, you can expect to pay anywhere from$0-$10,000, so be sure to consider this when
Integration Platform (iPaaS)
As mentioned previously, before SuiteScript, NetSuite used to have to rely on third party integration platforms to perform app integrations. However, this is still an option if you would prefer to use a solution that is an expert in integrations. It does come at a higher price point, and this can range from $500 to $5000 per month, again depending on the number and complexity of app integrations. Big players in this field include Celigo and Dell Boomi.
Step 7: Post Go-Live Support
Last but certainly not least, you need to factor in post go-live support costs. Although your implementation partner will have trained your employees to use the system, there will always be extra issues and queries that pop up along the way. In order to ensure you are not wasting precious time and money by figuring things out for yourself, it is important to have a robust support contract in place. NetSuite offer technical support for free with each license, but the service is very limited. Companies who want 24/7 support will have to upgrade to a premium support contract, which is based on a proportion of your license value, and can get quite pricey for the service you receive.
One of the better ways to access a support contract is by using your implementation provider, or if you went with NetSuite direct, you can reach out to any partner and they would be more than happy to help. There are two main ways in which partners price their support contracts, and these are by fixed fee and time and materials.
Fixed Fee
This involves paying a fixed fee each month for a certain quantity of hours. Using their extensive experience, your partner will calculate how many hours per month they predict you will need based on:
- Your industry
- Your business size
- The level of implementation across departments
For example, a small business with 5 users, and only implementing NetSuite financials, will need much fewer hours than a business with 100 users who have implemented across all departments (financials, sales, procurement, inventory management etc). As a rough guide, partners will charge anywhere from $150-$250 per hour, and tend to set a minimum of 5 hours per month. This means at the very minimum you will be spending $750 per month on support, and hours are often on a use it or lose it basis.
Most partners will set an initial period for the contract, after which the amount of hours can be adjusted once you have a better idea of how many you are going to need.
Time and materials
The other slightly less common option is to go with a time and materials contract. This means you pay only for the hours that you use. The reason this isn't such a popular option is that it doesn't guarantee you consistent resource. With a fixed fee contract, solution providers know exactly how much minimum resource they need to allocate, and will therefore have capacity allocated within their team to respond in a timely manner. With T&M contracts, your partner won't have preallocated resource, meaning it could take longer for your query to be answered, and won't necessarily be with the person who is familiar with your business.
Extra Tip
As mentioned earlier, NetSuite Solution providers have much more freedom to create a support contract that fits your business. But to extend upon this, we would encourage you to go with a small to medium sized provider for your support contract. Large solution providers often have very process driven and inflexible support systems in place. This means your query will often go into a waiting list, and will be assigned to a random consultant who is next available. This could mean that 1. you have to wait days for them to even pick up your query, and 2. they may not be very familiar with your system, so will take longer to solve the query. Both of these combine to make the process more time confusing and frustrating for you.
Choosing a more boutique partner like Threadgold Consulting means that they will have much more flexible systems in place and quicker response times. They will often assign the same consultants who worked on your implementation the entire way through, meaning they are very familiar with your system. More familiarity and quicker response times combine to make the process a lot easier. This is something you should really consider when choosing your support partner, as you will likely be working with them for a very long time.
Money Savings Tips
With the economy and cost of living crisis as it is, we understand that companies need to save every penny they can. One of the main features that Oracle provides to save money is the opportunity to finance your license cost. The standard is to pay a year upfront, but they offer the chance to split the cost and pay monthly, with 0% interest. However, we would like to offer you some more money saving tips that we have picked up through our extensive experience of NetSuite licensing and implementations!
Working with a NetSuite Solution Provider
Now you might think this is biased because we are one, but working with a NetSuite Solution Provider truly will bring you savings in a number of ways. Firstly, they are aware of the downsides of NetSuite licensing, and will help you get the best deal possible from Oracle. For example, it is extremely hard to negotiate against license increases at contract renewal. Oracle know you have spent a lot of time and money on implementation, and they know switching providers isn't a great option. As such, they will often increase fees quite substantially, and this is based on your initial license cost. Therefore getting it the first time is crucial, and NetSuite's Sales and Services team will want that initial cost to be as high as possible.
NetSuite Solution Providers also have much more flexibility when it comes to implementation costs, and can give you discounts which would be much harder to approve within the NetSuite Sales and Services team.
Long Term Contracts
One of our other top tips for saving money is to try and negotiate a longer term contract. Oracle offer contracts from as short as 12 months, to as long as 5 years. By agreeing a longer term contract, you know exactly how much you will paying each year for the specific length of time, and can budget/plan accordingly. You will also won't have to deal with frequent price increases that occur once a contract ends, so it is a much safer option to go for.
The right timing
Oracle and a lot of SaaS companies are held to sales targets, and these often get reviewed monthly and quarterly. As such, if you're going to buy a NetSuite license, the best time to do so is at the end of a month or quarter. You will get the greatest wins by purchasing your license at the end of their financial year in April, as Oracle tend to give out large discounts so that they can hit their targets.
Buy now, add later
A common misconception is that you need to decide how many modules and users you need right from the start. This simply isn't the case. You can always add modules on, but once you've purchased them, you have to wait until your contract ends to remove them. Therefore, we'd very much advise that you start off by purchasing the base package to get your organisation running on NetSuite, and then you can add on modules and users as you go. This is an effective way to save money upfront, and spread the costs out over time.
Breaking down your implementation costs
Partners will often give you a bulk estimate for your NetSuite implementation cost. This is quite hard to see whether you are getting value for money, so we'd advise that you ask your partner to break down what each phase is going to cost, and what you will get out of it. You may find that you can make some savings from speeding certain phases up and cutting corners (only where appropriate).
How does NetSuite pricing compare to alternatives?
There are many other ERP systems on the market, such as Microsoft Dynamics, SAP Business One, Info CloudSuite and Epicor to name a few. If you were to compare ERP systems simply on price, NetSuite will generally always come out on top. It is a premium ERP system, and the pricing can scare some organisations away. However it is important to understand what you are getting with NetSuite, in comparison with other ERPs.
Firstly, NetSuite is a true cloud ERP. It was developed on the cloud, for the cloud, and therefore is the most comprehensive and functional ERP system on the market. This means that every customer accesses the exact same system, and you won't have to pay for any hardware or expensive maintenance of on-premise solutions. It also means that the system is always evolving and being improved upon, as it is much easier to role out an update. If you chose a cheaper on-premise system, then future updates will probably require new hardware, going back to your solution provider and paying for another hefty re-implementations, and a lot of headaches!
Similarly, NetSuite's modular and plug-and-play functionality means that it is much easier and quicker to add new elements to your system. As your business grows, the system will scale with you. Certain ERP's like Sage Intaact may cheaper and a better option for a smaller business, but soon enough you will outgrow it and have to then implement yet another ERP. Features like NetSuite OneWorld make it much easier to add on entities, and expand your revenue potential. So although you may be paying more upfront, you will be saving money in the future from the system's scalability.
Don't believe us? Then listen to this great review from Bruce Capagli, Chief Operations Officer of Precision Disposables; "I have 15 plus years of experience in all the major ERP platforms, including SAP, and I've been through six major implementations. NetSuite was by far the best."
Finally, although other ERP's may appear cheaper to start with, they are not as simple to implement. It takes a lot of time and experienced developers to migrate and integrate your business, often making the implementation double or triple that of a NetSuite implementation. This can often cancel out the cheaper license cost, so if that's the case, why not go for the system that has much better functionality and scalability? If you'd like a more in depth analysis of the different ERP's on the market, check out our competitor blog where we delve into what makes each ERP unique and how they compare to NetSuite!
Save Big on NetSuite With Threadgold
If you want a quote on licensing and implementing NetSuite for your business, contact Threadgold Consulting today. We are a leading Oracle NetSuite Solution Provider Partner who can help navigate the complexity of NetSuite licensing and help ensure you get an amazing NetSuite license contract with best-in-class NetSuite consultants.